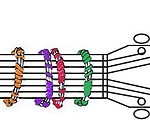 About The Filaments Project
The Filaments Project is a fundraising effort created by award-winning fiber artist Jo "Qatana" Adell, as an offshoot of her Knot-Working craft.
Filaments are bracelets and other jewelry made from used and recycled guitar strings donated by many musicians, some whose names you know, some whose names you don't.
100% of the profits from the sale of this jewelry is donated to the Sweet Relief Musicians Fund, which raises money to help working musicians who are in need of help with medical and day-to-day living expenses.
Currently all funds are designated for Sweet Relief's general fund. However, we'd be happy to make a donation in your name to any of the people or projects Sweet Relief is currently assisting.
We are happy to accept donations of your used strings, whatever instrument you may play.
For more information you can visit any of the following sites run by The Filaments Project.  Sweet Relief Musicians Fund is honored to be the beneficiary of The Filament Project and are extremely grateful to Jo and her team for all of their support and generosity.
Filaments Project eBay profile page